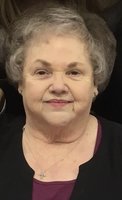 Dolores Brewer
Dolores Talley Brewer, 71, of Florence, Alabama, passed from this life March 18, 2018, after a brief illness.
Dolores was born February 13, 1947, in Colbert County, Alabama. She was a member of Fairview Baptist Church and served as the organist for many years. Dolores was a devoted pastor's wife for 45 years. She was a loving, genuine, and kind soul who loved her family and her church. She was employed by Infants and Children's Clinic in Florence for 16 years as a receptionist. She loved to crochet and was an avid quilt-maker making many projects for her family and friends, leaving a legacy of hand-made love on our hearts and lives. Dolores' love for music touched many lives. She has finally climbed that last hill and wiped that last tear to be with her Lord and Savior.
She was preceded in death by her father, Luther Talley and mother, Ruby Talley Abernathy.
Dolores is survived by her husband of 53 years, Rev. William Brewer; children, Lane Brewer (Paula), Kelvin Brewer (Gina), and Stephanie Brewer; One sister, June White (Jim), and one brother, Rev. Redmond Talley, (Charlene); Six grandchildren: Morgan Strickland, Chailey Brewer, Kelly Brewer, Peyton Brewer, Ally Brewer, and Emry Brewer; One great-grandchild: Rowan Hammons and Several special friends who have become family.
Visitation will be Tuesday, March 20th from 5-8:00 P.M. at Fairview Baptist Church in Florence. The funeral service will be Wednesday at 1:00 P.M. at the church with Bro. Redmond Talley and Bro. Bobby Walton officiating. Burial will be in Greenview Memorial Park. Pallbearers will be Peyton Brewer, Dan Murphy, Brandon Burns, Jeff Brewer, Greg Crosslin, Kenneth Brewer, and Terry Brewer.
In lieu of flowers, the family requests your presence to celebrate her life and your prayers in the days to come.
Greenhill Funeral Home in charge of arrangements.